Lake
Chuzenji
sits amidst the majestic beauty of the mountains of inner Nikko (
Okunikko
).
From the late 1800s to the early 1900s, the area was a popular resort area for foreign dignitaries. With its many luxurious villas, the Chuzenji of that era was a bustling, exclusive town frequented by celebrities and other prominent figures.
One of the villas still standing today is the former Italian Embassy villa, built in 1928 and owned by the Italian government until 1997. Designed by American architect Anthony Raymond, the structure achieves an exquisite harmony between Japan's natural beauty and Western architecture. Features such as the
checkerboard
walls of cedar bark and finished wood and interior paneling that highlights the wood's natural grain are bold yet somehow soothing at the same time. Today, the villa is preserved as part of the Italian Embassy Villa
Memorial Park
, and its living room, study, and other rooms are open to the public.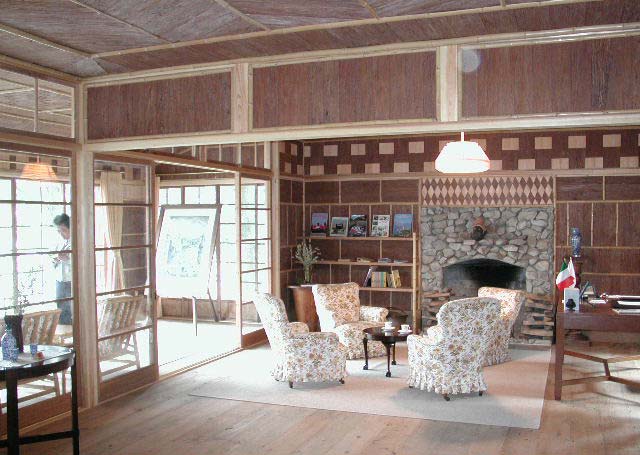 This villa must have seen some interesting parties in its day.
Lake Chuzenji, with Mt. Nantai in the background.
—Mellow Monk

Go to the Mellow Monk tea page
Subscribe to the blog feed (RSS)